In this article we will focus on debt counselling and debt review. As registered debt counsellors we can assist you.  The process, procedure, terminology and advantages of debt review will be discussed in detail. We have further created a question and answer section in this article which will answer most of the pressing questions that you may wish to have answered which relate to debt review. We will also shed light on important case law and legislation which relates to the debt review industry.
WHAT IS DEBT REVIEW?
South Africa currently has over 12 million over-indebted consumers out of 20 million credit active consumers.  Drastic action was needed to help  and In 2007 government passed the National Credit Act 34 of 2005(hereinafter referred to as "The Act". The Act came into full force along with guided regulations which helped with the procedure and implementation of the Act..   The National Credit Regulator overseas enforcement of the Act and all Debt Counsellors must be registered with it. Debt Counsellors are given a registration number which can be verified on the National Credit Regulator's website.
S86 and 87 of the Act deals with Debt Review applications. A person is over-indebted if they cannot pay for some or all of their monthly debt obligations after living expenses are deducted from their nett salary.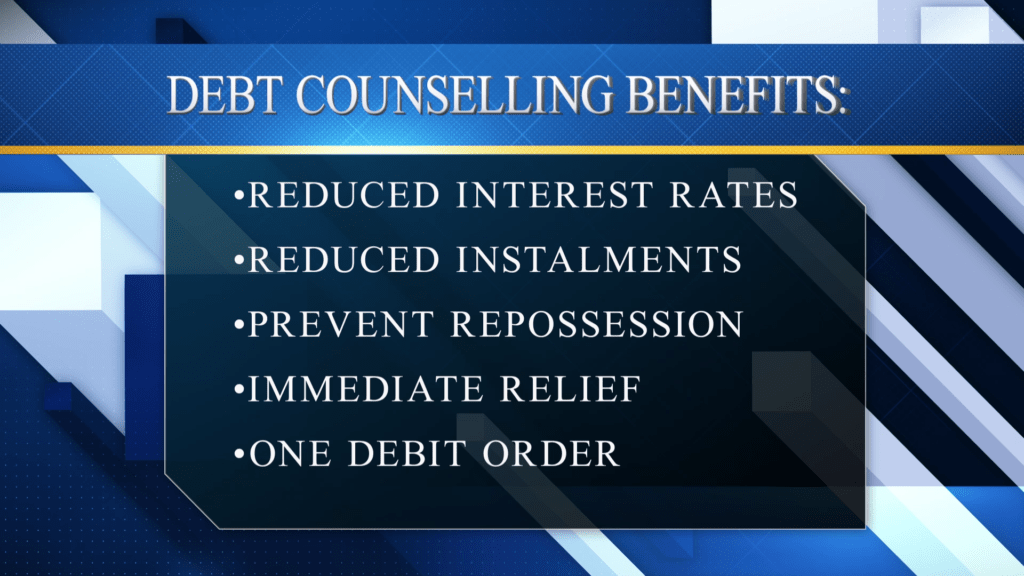 HOW DEBT REVIEW WORKS?
Many countries have adopted debt counselling to assist their citizens who are struggling financially.  Debt Review in South Africa works similar to other countries. Debt Review is a process that allows an over-indebted consumer to have their debt restructured so that they have more disposable income available.  This is achieved by reducing their monthly debt repayments to each creditor pro rata.  As Debt Counsellors we have industry leading software which helps us achieve this.  We are able to calculate a consumer's estimated debt repayment over an established period.  Debt Counselling has rules often referred to as Task team Agreements.  It serves as a guideline and is followed by Debt Counsellors and Creditors so that there is general uniformity.   Credit agreements must solve within a specific period, meaning the terms are only allowed to be extended to certain period dependent on the credit agreement concerned.
The following are examples of types of Debt included under debt review using an Infographic:
VAF – Vehicle Finance – Generally agreed to a maximum extension of 84 months.
Bond – Home Finance – Generally agreed to a maximum extension of 60 months. (Most of the remaining debt would have been paid off by this time. The consumer will be able to pay the original contractual instalment.
Personal Loans – Range between 12 – 60 months depending on the size of the loan taken

WHAT IS THE DEBT REVIEW PROCESS AND HOW DOES DEBT REVIEW WORK?
The debt review process :
You as a consumer will contact our company for assistance.
We will pull up your credit report to assess your current debt situation.
We conduct an assessment and complete a Form 16. This can be done over the phone or by email. We will use your payslips and other relevant information to determine your gross and nett salary, your current living expenses your debt exposure and to assess whether you are over-indebted.
After we have finalised the assessment we will notify you if you qualify for debt review.
We then notify all your credit providers that you have applied for Debt Review and request certificates of balance.
Creditors respond in 5 days with certificates of balance.
We amend your balances and interest rates to match the creditor's certificates of balance.
Within 10 days a form 17.2 is issued confirming that you are over-indebted.
All debit orders are cancelled and the PDA is given instruction to process a new debit order for all your accounts.
Within 20 days we send out a proposal to all creditors for consideration. The Proposal sets out all accounts. It proposes lower instalments, lower interest rates and further provides creditors with a detailed breakdown of your income and expenditure.
Creditors respond by either accepting or rejecting the proposal. If they reject the proposal they may provide a counter proposal.
The matter is transferred to our attorneys who will draft a court application in terms of S86(7)(c), 86(8)b read with s85 and 87 ito NCA 34 of 2005
The matter set down for hearing at a Magistrate's Court and is presided over by a Magistrate
The Magistrate if satisfied will confirm the proposal and Draft Court Order.
We serve the order on all your creditors
After all your debt is settled we issue a clearance certificate.
THE FOLLOWING VIDEO SHOWS THE DEBT REVIEW PROCESS AND HOW IT CAN BENEFIT YOU
THE COURT PROCESS AND DEBT REVIEW
Debt Counsellors are required to file an application for debt review before a Magistrate's Court .  We as the Debt Counsellors will bring the application on your behalf.  The Debt Counsellor is cited as the Applicant in the matter. You will be required to attend if you reside in Pietermaritzburg or Dundee.  Most Courts in Gauteng, Kwazulu Natal , Western Cape and other provinces do not require the consumer to attend.
All documentation is sent to our attorneys to prepare the Court Application.
The Index of the Court Application will have the following documentation attached:
NOTICE OF MOTION
FOUNDING AFFIDAVIT
CONFIRMATORY AFFIDAVIT
ANNEXURE A – (FORM 16)AND RECEIPT OF APPLICATION
ANNEXURE B – FORM 17.1, 17.2 AND PROOF OF SERVICE
ANNEXURE C – CERTIFICATE OF BALANCE AND CONSENT TO SERVICE
ANNEXURE D – PROOF OF INCOME
ANNEXURE E – IDENTITY DOCUMENT– CONSUMER
ANNEXURE F – DEBT RESTRUCTURING PROPOSAL
ANNEXURE G – PROOF OF JURISDICTION
ANNEXURE H – DRAFT DEBT RE-ARRANGEMENT ORDER
ANNEXURE H2 – ANNEXURE TO DRAFT ORDER
ANNEXURE  I – NCR CERTIFICATE
ANNEXURE  J – ID DOCUMENT FOR DEBT COUNSELLOR
ANNEXURE K – SERVICE AFFIDAVIT  & PROOF OF SERVICE
ANNEXURE  L – ACCEPTANCE LETTERS
The attorney will draft the Notice of Motion (Notice of Application) in terms of S86(7)(c), 86(8)b read with s85 and 87 ito NCA 34 of 2005. All creditors who are party to the Debt Counselling proceedings will be cited as respondents.  The Founding Affidavit will be drafted based on the Debt Counsellor's findings.  All important information (Budget, Income & Expenditure, Credit Obligations) will be included in the Founding Affidavit.  The Attorneys will also draft a confirmatory affidavit which will be sent to you for signature.  You will be required to have the affidavit commissioned before any Commissioner of Oaths(South African Police Services,South African Post Office)
The Application is then sent to the Magistrates Court to be issued.  After the application is issued, the clerk will provide a return date for the matter to be heard.
The Application must be served in terms of Rule 55 of the Magistrates Court Act unless creditors have consented to service via email.  If consent is lacking the Application is served in terms of Rule 55.
Creditors are granted 5 days to oppose the application.  Should they oppose they are required to file an opposing affidavit  giving reasons for their opposition.
If no opposition is received, the matter is heard on an unopposed basis and order is granted accordingly.
If the matter is opposed, the matter is transferred to the opposed roll for argument.
Our attorneys are formidable opponents in Court and are well known in the credit industry.  They are well versed with Debt Review proceedings and will always ensure that you and your assets remain protected.  Our Court Applications always end with a Court Order granted in your favour.
It is very important to ensure that you have a competent attorney firm representing you.  Up to date Case law always determines the result.
In Nedbank Ltd v Norris and Others 2016, the Magistrate presiding over the matter unilaterally reduced the interest rate on a credit agreement.  This was subesquently made an order of court. The Creditor appealed the decision which was later set aside.  It was held that a Magistrates Court is a creature of statute.  A Magistrate has no power to change an interest rate on a credit agreement unless there is an acceptance in place. If such an order is made it is termed "ultra vires" and may be set aside.

WHAT ACCOUNTS CAN BE INCLUDED?
Store Cards, Credit Cards, Home Loans(Bond), Vehicle Finance & Personal Loans. Certain incidental credit agreements may also be included.
We deal with all creditors registered with the National Credit Regulator. Listed below are some of the creditors that we can assist with:
STANDARD BANK
AFRICAN BANK
NEDBANK
ABSA
FIRST NATIONAL BANK
DIRECT AXIS
CALL DIRECT
DMC DEBT MANAGEMENT (PTY) LIMITED
FINCHOICE (PTY) LIMITED
EDCON LIMITED trading as JET STORES
EDCON LIMITED trading as EDGARS
TRUWORTHS LIMITED (IDENTITY)
FOSCHINI RETAIL GROUP (SPORTSCENE, EXACT, DONNA CLAIRE, TOTAL SPORTS , MARKHAMS, STERNS)
AMERICAN SWISS
JD GROUP
CENTURY CAPITAL (BARNETTS, HIFI CORPORATION, CAPFIN, BRADLOWS)
OLD MUTUAL FINANCE
RCS CARDS
BAYPORT FINANCIAL SERVICES
GETBUCKS
LEWIS STORES (BEARES
HOMECHOICE
SANLAM PERSONAL LOANS
WOOLWORTHS
MR PRICE GROUP
MOTOR FINANCE CORPORATION (MFC)
WESBANK (MCCARTHY FINANCE, NISSAN FINANCE, CMH FINANCE, RENAULT FINANCIAL SERVICES, ISUZU FINANCE, GMSA FINANCIAL SERVICES, VOLKSWAGEN FINANCIAL SERVICES)
MERCEDED BENZ
AUDI FINANCIAL SERVICES
CAPITEC BANK
PRES LES
ITHALA
SA TAXI FINANCE
BMW FINANCIAL SERVICES
SA HOME LOANS
WHAT DOES DEBT REVIEW MEAN?
Debt Review is a process whereby a consumer applies to have their debt restructured. As a result they will qualify for lower instalments. We are able to reduce interest rates as well which allows you to settle your debt faster.
WHO QUALIFIES FOR DEBT REVIEW?
Any South African citizen who is employed and over-indebted qualifies for Debt Review.

WHAT ARE THE REQUIREMENTS FOR DEBT COUNSELLING?
Our debt counselling company will require the following documentation from you if you wish to apply for debt review:
Identity Document
Payslip
3 Month's Bank Statements
WHY SHOULD I USE DEBT COUNSELLING?
Debt Counselling is the fastest way  to eradicate debt and the best option available to a consumer who is over-indebted.  As registered Debt Counsellors we reduce the interest rates. By reducing the interest rates our clients are afforded the benefit of paying a much lower instalment over the same period as their original contractual term.
IS DEBT REVIEW A GOOD IDEA?
Debt Review is definitely a good idea. Once you apply for debt review you will receive immediate legal protection against creditors and your assets will be saved from repossession. Your salary will not be garnished either(emoluments attachment order) Your credit rating will not be affected(blacklisted) as any arrears will be catered for in your payment plan.   By paying a reduced instalment, you will have more disposable income every month to take care of your family.  Creditors will also stop calling and texting you.
 DEBT REVIEW VS DEBT CONSOLIDATION INFOGRAPHIC
If you were declined for a Debt Consolidation loan you can still apply for Debt Review.Have a look at the following infographic which illustrates the benefits of Debt Review vs Debt Consolidation Loans.

HOW LONG DOES DEBT REVIEW LAST?
Our goal for the debt review process is to have all debt finalised in 60 months (5 years). Clients with smaller debt settle in 36 months or less.
 
HOW TO CANCEL DEBT REVIEW?
The process to cancel Debt Review can become complicated if you have not settled all your debt. It is advisable to contact our offices to determine the best way forward.  You will need to approach the Magistrate's Court for relief if you are no longer over-indebted. If you cancel your debt review you will lose all the concessions such as reduced instalments and interest rates. You will end up paying more if you withdraw from the process.
 
WHAT HAPPENS AFTER DEBT REVIEW?
After you settle all your debt, you will be issued with a Clearance Certificate (Form 19) . It will be issued to all creditors and credit bureaus.
 
IS DEBT REVIEW GOOD OR BAD?
The only "bad" is that you will not be able to take out further credit whilst under debt review.  If you are already over-indebted or in arrears, it is highly unlikely that any creditor would extend credit to you.
 
HOW DOES DEBT REVIEW AFFECT YOU
Many of our clients who have applied for Debt Counselling are happier and more at peace. They no longer have to worry about debt and are able to sleep peacefully. Debt can be a burden on your health and wellbeing.  As Debt Counsellors we are very compassionate to our clients.  After you apply for Debt Counselling, you can forget about your debt repayments and focus on the more important things in life that matter.
 
Contact us for a free assessment.